The People Behind The Film
Necessity is the mother of invention. This is never better illustrated than in times of financial austerity. Film is a notoriously expensive art-form for many reasons. With extremely complicated and well machined equipment and a team of creatives ranging in number from three to two hundred all working together for perhaps months, it is never going to be done on a shoestring. Or is it? Can't afford a set? Can't afford actors? Can't afford a decent cup of coffee?One man has the solution.
He's Edinburgh based Paul Bruce and he's been making films since joining a film makers programme with the Video Access Centre and Leith Unemployed Media Group, and getting funding to shoot in the 1990's. His debut was called Mikey Brown, about a young unemployed man, who comes across down-and-out Sean Connery living in a pipe in Leith.
Zombie Asockalypse has been delighting audiences and critics wherever it is seen. One of the biggest fans is Mark Kermode, Britain's most well known and trusted film critic famous for his hilarious rants, who interviewed Paul on BBC 2's 'The Culture Show'. Mark called it:
The best zombie puppet film made in a washing machine… EVER! And I told them they could use that on the poster.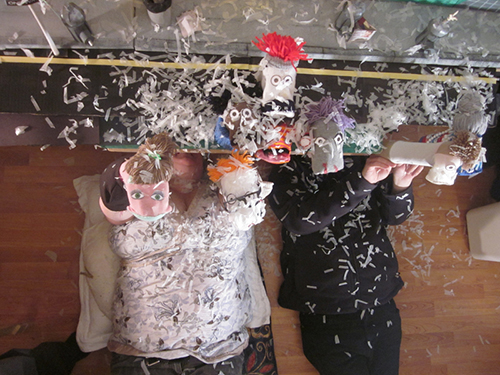 Paul replied "We don't have a poster!" Paul was surprised at this level of success, which came after a slow start and then grew after winning Best Film at Cinefringe in 2010. And like all savvy film makers he has a sequel, called Sockzilla. I've been asked not to reveal the plot, but I can say that it has more socks in it and some dancing. There is even talk of a third movie in the franchise. Paul is fast becoming the King of socksploitation shorts. Does he ever worry about accusations of socksism?
Of course! The whole cast are socks which is a bit unfair on the other bottom drawer species. We debated about having some token underpants but we couldn't afford them and no one was willing to donate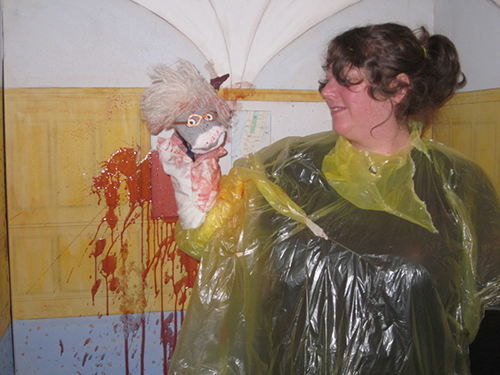 While on the subject we did feel that we needed to ask a more serious and personal question. Were the breasts real or silicone? "I think they were implants. They looked fake to me, anyway. Maybe she just stuffed paper down her bra like the girls at my school?"
Joking aside, on the surface Zombie Asockalypse is a comedy but there are deeply serious undertones. It has an incredibly bleak ending that frankly left us all at Snoovies needing a stiff drink and a moment alone. The film was inspired by Night of the Living Dead. It improves on the original which, incredibly, didn't have a honky-tonk piano scene. With such a challenging subject matter we expected the audition process to have been a draining experience in itself for both director and socktors. Not only did they have to be able to express the full range of human emotion through finger manipulation, they also had to be prepared to spend many hours in a shoot day cooped up with three other people and a camera operator inside a washing-machine box. Did Paul wash the socks before shooting?
They weren't mine (mine all have holes in them) so I don't know. I was worried they would go 'off' a bit under the lights but only one or two went a bit whiffy.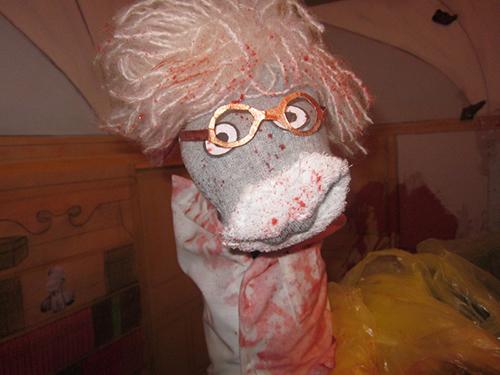 And that's about as deep an analysis of Zombie Asockalypse as we can manage. We think it deserves further investigation to reveal the truly multi-layered elements of this film. We hope that one of our readers will have the resources and energy to be able to publish a more authoritative discourse. In the meantime – read on.
Paul has loved shorts since watching a 1980's Spanish film called 'The Telephone Box'. Although he describes it as bizarre he adds, "Short films are a great way to express yourself and go off-centre. You can just make the films you want to make and not worry about making something commercial." This love of the short form eventually resulted in Paul becoming the director of the Edinburgh Short Film Festival and overseeing its transition from an almost unknown event to one of the more respected short film festivals in the world. He thinks there is a seismic shift coming.
I read somewhere that eventually, more people will be watching short films than features. Tablets, mobile phones and broadband TV are all going to push the short film market. Then there's web series. I think the future for short film is really exciting just now.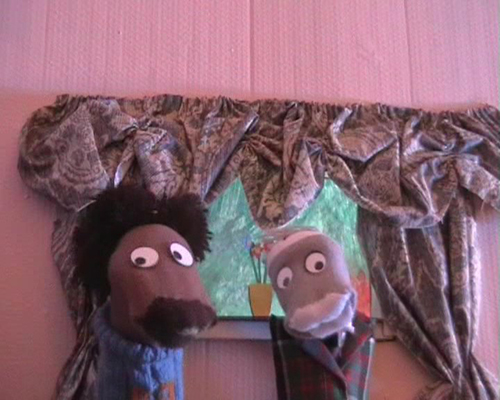 The future for Paul is also looking exciting. He's working on a web series called 'Godhammer', about a priest and nun sent on missions by the Pope to battle satanic adversaries. The title may give some idea of what to expect. And after that? "And then we want to finish that sock puppet trilogy!"