The People Behind The Film
African film is going through a renaissance at the moment. Films such as A Screaming Man from Chadian director Mahamat Saleh Haroun and District 9 by Neill Blomkamp have won huge critical and popular acclaim. With so many, frankly, brilliant films out there it's still baffling that The Gods Must be Crazy hasn't rightly disappeared into a void of embarrassed obscurity. So we really wanted to make sure we included at least one film from a continent able to produce such diverse cinema. The Wanderer fits our needs perfectly. Filmed in South Africa, with a wholly local cast and in a way that can appeal both locally and universally, it is exactly what the director, Shaun James, was hoping it would be – a tense thriller with a strong element of horror.
I use a conventional story structure… to streamline a local concept.
Shot on 35mm the camera work is excellent (Dino Benedetti), using understated techniques that help build the tension throughout. Horror conventions are turned on their head. A particular moment that worked was the classic heroine-in-the-dark-looking-for-the-evil-one, camera slowly tracking in to close up. As she turns, instead of the evil one being right behind her he is walking slowly away to be swallowed into darkness. Even the opening black and white sequence switching to full daytime colour is so integral to the style of story-telling that the moment passes unnoticed by the conscious brain and instead the vision melts into your body. Shaun James shot the 'The Wanderer' as a post-graduate piece at AFDA Media college in Johannesburg, an establishment that is producing some very nice work. Before applying, Shaun just knew that he wanted to be in film after watching Lord of the Rings aged eleven. He didn't know what he wanted to do – just something – anything – as long as he could be in film.
We started looking for more African roots [where] we could find this universal story.
Despite being a rather happy and contented individual (makes you sick, doesn't it?), Shaun is drawn to the dark side. He must be Darth Vader's well-adjusted second son. He has always wanted to make a thriller / horror film and this was his chance. He wrote the script and eagerly took it to the college panel for approval. They threw it back in his face. Do it again, they said. Undaunted but a little less cheerful (hehehe) he came up with a second concept and this was accepted. Because there is a strong element of the supernatural, Shaun had to make sure that the story wasn't too culturally specific so as to avoid the potential for offending any particular credo. The spirit world is a powerful presence for many in South Africa.
I've spent way too much time playing games.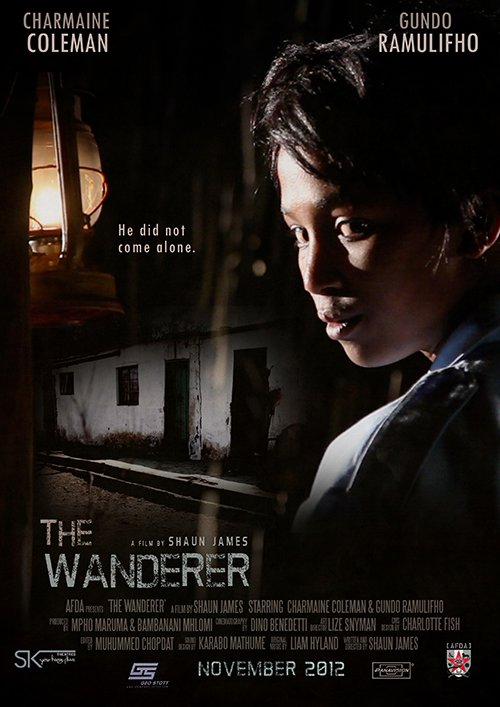 The not too ambiguous ending to The Wanderer has given rise to calls for a sequel and Shaun is pretty keen on the idea. Although he has a hankering for film-making he thinks the story line could also suit a TV serialization. But this, of course, would require some real funding. In the meantime he has plenty on his plate doing commercial work and also he and a colleague have script development funding for a feature film which he isn't revealing too much about. He is also working on a short about gaming and its dangers. Although he is keen to point out that social commentary isn't necessarily what he wants to do, he does want to be able to make films that can give his audiences a perspective or a point of view that challenges their views.
That's why we do this – to make that connection.
Shaun would like to thank everyone for sitting through the whole 24 minutes of his film. He really appreciates it, as he knows 24 minutes is relatively long for a short film. For other young up and coming filmmakers out there his advice is for you to go for it and "Tell a story that is meaningful to you, that you need to say and that you have a unique perspective on. A story that no one else can tell".
The Wanderer has been very well received at the few festivals for which it was submitted. Shaun loves the festival circuit when he can afford it. There's nothing like sitting in an auditorium with hundreds of people responding to something that you spent many lonely hours editing without any feedback as to whether it's good or not. Shaun does have a confession to make though. Once he's made a film he basically doesn't think about it any more. So he hasn't pursued the online avenue too much although he is, of course, becoming aware that it is a pretty essential part of modern life for a blossoming creative.