The People Behind The Film
We have to admit. We loved 'Shoot for the Moon'. We discovered it via Twitter, and reached out to Shut Up Infinity Films, the production company, to ask them if they wanted to be featured on Snoovies. The company was started by the writers, Chris Wickett (who also directed the film) and Gemma Hurley. Gemma went through a 'phase' of watching every TED talk about science out there and wanted to write something 'sciencey'. Since neither of them were scientists, they decided to write comedies with a 'scientific edge' instead. The name of their company came from a bizarre character they had back in the day, called Non-Infinite Norman. A man who hates the infinity vastness of the universe because it makes him feel infinitely small in comparison. After receiving this introduction, we at Snoovies were instantly convinced. We dig these guys.
We honestly can't remember how we came up with the lonely astronaut idea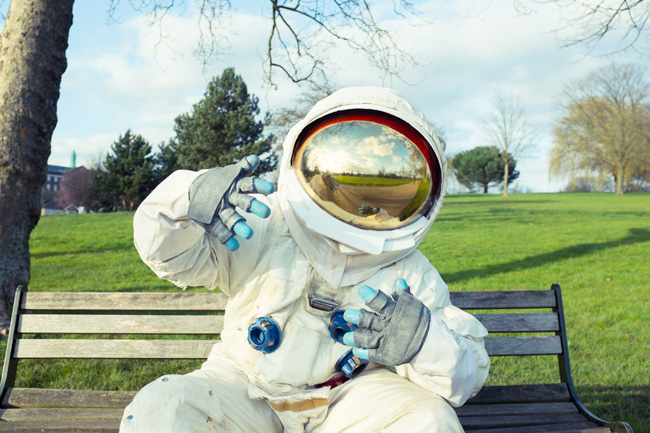 Chris and Gemma wanted to do something 'pro-space travel' after watching a brilliant Neil DeGrasse Tyson video called 'We Stopped Dreaming'. They recommend all of us to watch it, so here it is.
Shoot for the Moon was designed to make you feel like it's going to say 'if you try hard at something you can achieve anything', but with space travel that's clearly not the case. It needs support, and it needs the weight of public opinion behind it to make it happen. Thus the sucker punch at the end of the film. Chris told us that a lot of people who watch it are disappointed that Sal doesn't get to the moon. But in the end films don't have to be satisfying. If this one was, it'd be totally false.
Shut Up Infinity's biggest influence is probably The Armando Iannucci Show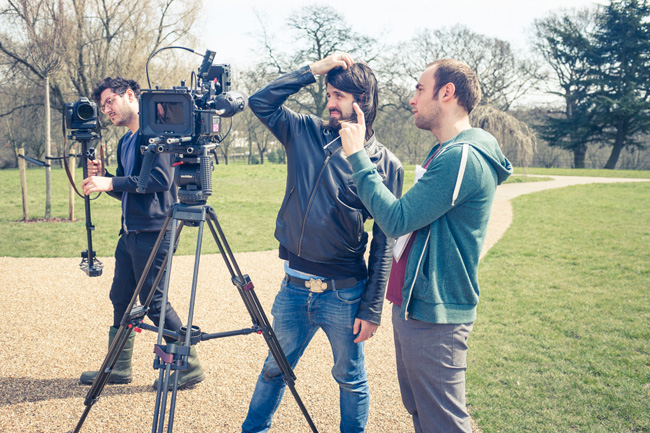 The team has been trying to copy the sense of existential dread portrayed in 'The Armando Iannucci Show'. As for the direction, Chris was heavily influenced by classic films from the 70s. Chris mentioned: "The performances seem to get more space, there are fewer cuts, there are fewer pointless camera moves. Everything is big and bold and real. Gervais and Merchant did that in The Office. You don't realise it, but a lot of those classic, awkward scenes are just one shot."
We were surprised to discover that Chris and Gemma met the DOP, Andrew Rodger, on Twitter after he retweeted their Skepticism Advert. We love it when film makers collaborate together through social media, it's why we do behind-the-scenes for all the films we feature. Andrew's Twitter bio said: "cinematographer, skeptic". This was all the duo needed to know: "We've got him to shoot all the other stuff we've done since Shoot For The Moon with vague promises of one day doing another science film. So far he's fallen for it."
Pretty much everybody on the film worked for the love of science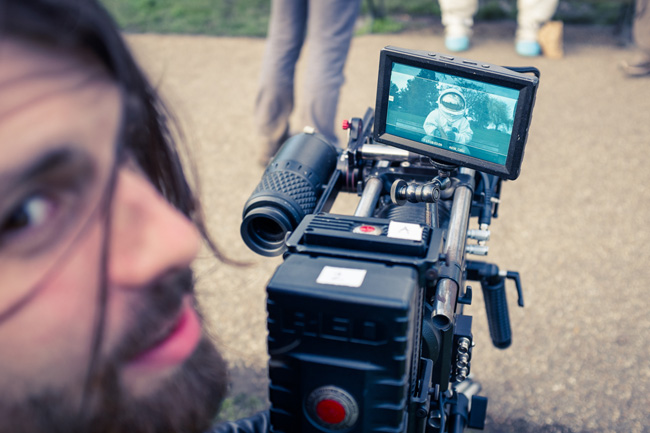 To shoot this film, the team did not have any budget available. Everybody worked "for the love of science". They met editor Jon Dean after posting the job online. He's another science lover with great comedy chops. Lastly, they headhunted the composer Graham Hadfield after hearing his awesome work on another space film. The few things they had to pay for, such as insurance, permits and "all the boring stuff" came out of their own pockets.
We wanted to know what was next for Shut Up Infinity. Chris has just wrapped a sitcom pilot, set at a caravan park called 'Sunset Dreams'. Gemma is developing a moody, fantasy drama set on a remote Scottish island during a future world war. But after that, they'll be back to work on a Shut Up Infinity-penned feature. A comedy, of course. We can't wait! Make sure you follow developments via their YouTube channel.